2019 Golf Outing!
Baptism!
Questions about Baptism? Interested in getting Baptized? Do you have a son or daughter you would like to have baptized?
Let's talk!
** If you submit a baptism form Pastor Brian will be contacting you soon!
Acolyte Signups!
Do you have kids who want to be involved? We need kids in grades 1-5 to acolyte and run the organ! Once you have talked with Pastor Brian, sign up below!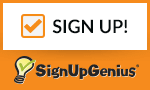 Get Involved with us!
This is the location for all of our volunteer and serve opportunities!
Want to stay updated on any opportunities? Fill out the form below!